udy Elaine Ruth grew up in Lamont, CA., living there until she married at which time she moved with George to Bakersfield, CA. She graduated from Arvin High in 1971.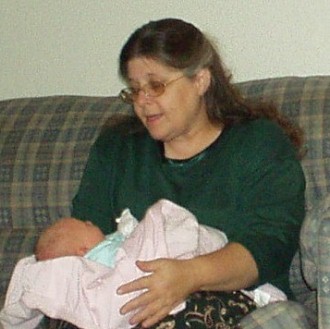 She grew up attending the United Pentecostal Church in Bakersfield where her entire family attended. She was baptized in Jesus Name by then Youth Leader Ron Mullings and received the baptism of the Holy Ghost as a young girl.
Her family were on vacation in 1969 not arriving back into town until the end of July, during which time Georges' family arrived. When her family returned from vacation, it was hard not to notice the new guy of the church on the platform with his guitar.
When she walked up to the platform to play the piano before church as was her custom, she didn't even speak to the guy. It was a royal Pentecostal snub! But she had already learned his name from the talk among all the girls.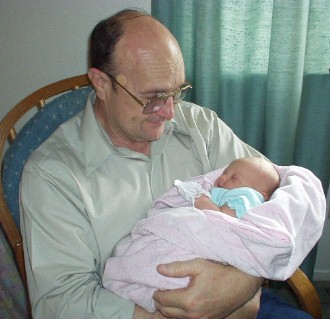 He had never approached any of the girls there, and only smiled in a polite hello to the new girl walking past him to the piano. But this girl was already working her magic on him!
Judy played the piano and the accordian and sang solo specials from a young age. Her mother taught her early to sew, and she made the biggest part of all her own clothes and later, the bulk of her daughters' clothes as well as teaching her. George still remembers the dress she had on the first time he saw her.
George was born and raised in a little town in north eastern Arkansas by the name of Rector. He spent as much time as he could on his Grandfather Sheltons' farm. His parents moved the family to Corcoran, CA. in 1961 then on to Bakersfield after he graduated High School in 1969.
He attended the United Pentecostal church while they lived in Corcoran. He was baptized there by Pastor William (Dutchy) Clayton in the Name of Jesus Christ. He learned to play guitar in church and played for a while in a group with his buddies, Terry Clayton and Dennis Curtsinger.
He met Judy in late 1969, and they were married in November of 1970. He still calls her his "brand new bride," even though it's been 53+ years since they married.
He worked for himself for the largest part of his life, his sons helping him in the family business, learning how to work with their hands and tools, how to make a living for their own future families, and also, how to live for God. After becoming a shop teacher in 1998, he suffered a severe neck injury from which he's never regained full use of his right side. He also experienced a tumor on his left lung as well as a couple of heart problems.
But he credits the Master with the good health he has been given. He feels he has been granted an extra portion of good health. He thanks God for the awesome family which they have been given.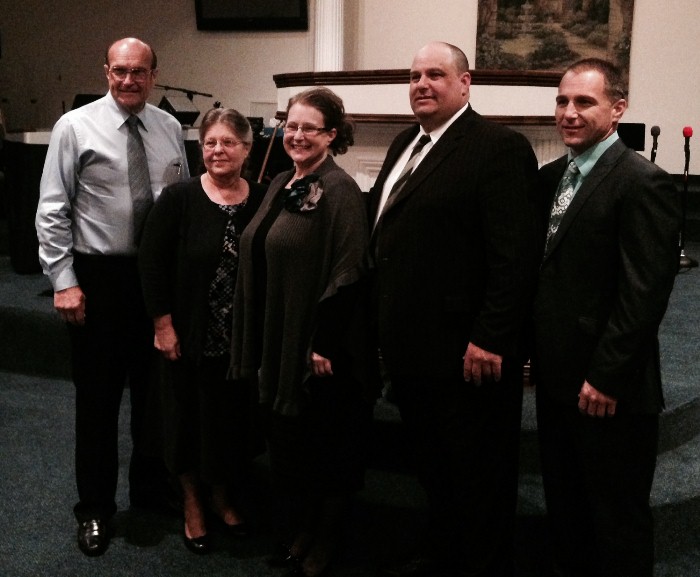 Back to the subject, there was something special about the meeting of this pair, and soon both realized they had a future together. They were married November 6, 1970, by then Pastor Leon Stobaugh.
Together they raised the three wonderful children with which God blessed them in church; Teresa Mullings, wife of Pastor Mike Mullings (Apostolic Rock Church), Mark and Melanie (Tenny) of Augusta, GA., and Matthew and Julianna (Fite) of Bakersfield. All of them and their children are consistent and active in church.
God has given us two grandsons and six granddaughters, and two great grandsons - Hudsun Lee Parriott and Jackson MaverickPariott! All in church, all singers and/or musicians. We're so thankful and can never repay God's goodness and mercy to us. We're worthy only by His Grace, and Love and Mercy, and by His blood applied through His Name, we're washed.
George & Judy thank the Lord each and every day for the awesome family God has given them, as well as the awesome church family they enjoy at Apostolic Rock Church. God is blessing and adding to the church under Pastor Michael Mullings and wife, Teresa (Cavaness) Mullings. We covet your prayers in that we can see success in the leading of others to the Truth of Jesus Name baptism, the only way to Him through the blood He shed.
George & Judy reside in Bakersfield, CA. They always appreciate your hello's, (or, as George would say it, your "Howdy Do's!,"


© 2000 - 2023