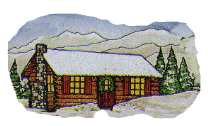 I've talked about my childhood, things I've experienced; friends, 'n teachers . . . and family . . . And decided, since I've mentioned 'em so cottonpickin' much, I just thought I'd take a moment and 'interduce youn's.'
First, I'll introduce the family of my namesake:
The Cavanesses
The picture immediately below is of my Grandpa and Grandma Cavaness and their family. (It is linked to a page that will give you more options.) When we were growing up we spent most of our time either in California or out on Grandpa Sheltons' farm cause that's where Mom, my sister Betty Sue and I, worked just trying to make enough on which to survive . . .
We didn't have too much time to play, and neither did my Cavaness cousins probably. But, what little time we did have together, we sure we had a great time!
In '84 I spent a little time there in Rector and got the chance to know some of them a little more but it sure wasn't enough to suit me. I sure wish we'd been able to get to know all of them.

The Sheltons
And of course, here are the Sheltons, of whom I've written so much in the series of stories entitled, Little Boy In Arkansas Stories . . .